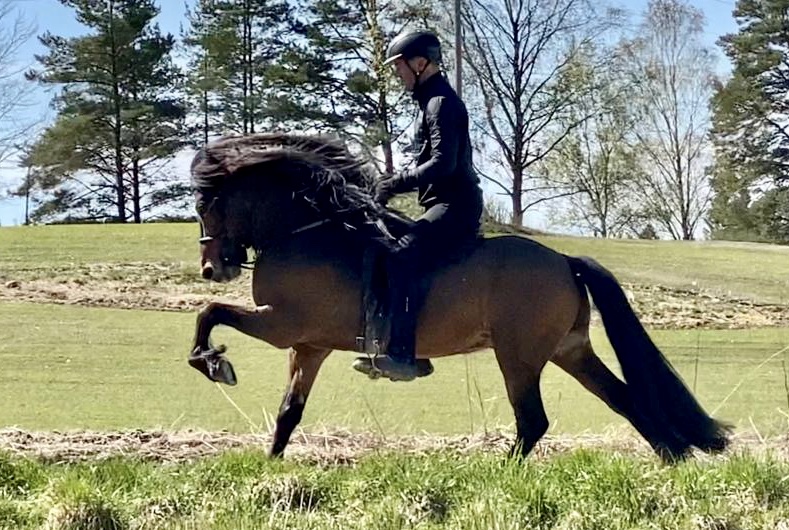 NO: Draumur frá Birkeskogen NO2014104248
NO: Draumur frá Birkeskogen NO2014104248
---
Draumur frá Birkeskogen NO2014104248
Father: Tigull fra Kleiva 8,44
Mother: Dimma fra Vinnes 8,15
Blub index 121 without pace
Draumur is assessed in breeding and scored a total of 8,34 as a 4-gaiter. He received 9 on general impression, spirit, galop and mane and tail.
Draumur is located in Norway.

How did you meet this horse?
He is the last offspring from Dimma fra Vinnes who has given us many really good offspring.
Can you describe the character of this horse?
An incredibly lovely stallion with top gaits and supermind! He has great capacity and is a horse for the major championships in sport.
How long have you had Draumur?
Since he was 3 years old, we began his training at that age and he has been at our farm since.
What is the most memorable moment together?
Every time you ride him there is something which gives you a thrill.
How is Draumur as a riding horse?
He is such an amazing good horse to ride and every time you ride him he is willing to do his best.
What is the highest score of the horse?
In FIZO he scored 8,46 for rideability shown as a 4-gaiter.
What makes this horse so special?
His sweet and polite character combined with his powerful gaits.
What is Draumur best at?
We believe he will be really good for both tölttests and fourgait class.
Why is it time for you to part?
There is a time for everything. We have many other good horses to work with in the future.
Can you sketch the perfect owner for Draumur?
He will be perfect for an ambitious rider who wants to have a top horse for the sports tracks and he can also be serving mares as a breeding stallion.

If you want to meet Draumur, please contact Bernt and Gabrielle Severinsen, feel free to use messenger to make calls.
Bernt & Gabrielle Severinsen.
Adress: Lieråsen 7, 1852 Mysen, Norway.
Telephone: 0047 93030407
Do you also want your horse advertised on the isibless market?
contact us via Email mail@isibless.de